Read Time:
6 Minute, 0 Second
InvestorPlace – Stock Market News, Stock Advice & Trading Tips
Happy New Year!
Less than 48 hours ago we closed the chapter on a historic year and started fresh in a new one. So let me be one of many to welcome you to 2021 — the second year of the even more historic Roaring 2020s.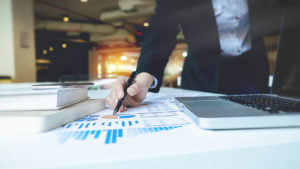 Source: Shutterstock
Even through all of the uncertainty that 2020 threw our way, we got clarity on some important things.
One is that investing in small, early stage companies in hypergrowth trends works. And the other is that those trends not only survived the pandemic … but accelerated.
That has me more excited than ever for 2021 and the rest of the decade.
One of my favorite things to do at this time each year is to reflect on what the last 12 months handed us and look ahead at what's in store for the next 12 months. I've come up with some predictions as a result of my analysis, and I want to share some of them with you today …
Prediction #1: There will NOT be a federal COVID-19 lockdown in 2021.
One of the biggest fears hanging over investors as we turn the calendar to the new year is another potential lockdown. This time the fear is that it could be nationwide and crumble an already fragile economy after the mid-2020 lockdowns. Even if the new Biden administration has a different view on the virus from the Trump administration, the odds of a complete shutdown are very small. This is good news for the economy … and for stocks.
Prediction #2: Money moves from the sidelines into the market.
There is more than $4.5 trillion sitting on the sidelines today in money market funds. With interest rates near historic lows, investors are making virtually nothing on it. Some of it must make its way into the stock market.
Prediction #3: The consumer rebounds and related stocks soar.
American consumers make up about two-thirds of the economy, and they will be key to getting everything back to normal in 2021. With record amounts of money in checking and savings accounts, there is pent-up energy to spend once there is a light at the end of the pandemic tunnel. Add in more stimulus from Washington, D.C. and the consumer could be the gasoline on the fire that is already starting to burn for the economy.
Prediction #4: China's growth will surge along with its stock market.
Chine was one of the only countries to avoid a recession in 2020, even though COVID-19 is believed to have originated in Wuhan. Estimates are for GDP growth to expand again in 2021, and I predict China will see 9% economic growth. The stock market gains will also be impressive – I say the Shanghai Stock Exchange will be up over 25% at some point in 2021.
Prediction #5: Bitcoin will hit 40k (before the Dow).
The world's largest cryptocurrency was the best performing asset class in 2020. And I expect that trend will continue in 2021 as bitcoin reaches $40,000 for the first time ever. That's about a double from here! And as bitcoin rises, so do the altcoins that trade in its wake — oftentimes even more so.
Prediction #6: There will be at least two corrections.
I predicted that there would be at least one correction in 2020, and there were two. This year, I'm upping my prediction to account for increased volatility and the higher probability of two pullbacks of at least 10%. A new presidential administration and a stock market that may get frothy could both be reasons for a correction.
And if you're a regular reader, you can probably guess what I'm about to say next… every correction will be a buying opportunity.
Prediction #7: A massive infrastructure/clean energy bill will be passed.
The odds of an infrastructure bill should be a full 100%, but unfortunately our politicians tend to forget about the needs of the country. I am going out on a limb and saying that 2021 is the year that a major infrastructure bill finally gets passed. And the focus will be on clean energy – solar, wind, hydrogen, electric vehicle charging stations, etc.
Prediction #8: Small caps will outperform.
Small caps have crushed their larger counterparts in recent months, and I believe that will continue in 2021. In fact, I think small-cap stocks are in the early stages of a multiyear bull market. Due to higher inefficiencies in how investors value small caps, there are more opportunities to find mispriced stocks and generate life-changing gains.
Prediction #9: SPAC mania will continue.
The biggest story of 2020 — well, other than the obvious — was the reemergence of the Special Purpose Acquisition Company. SPACs have become the preferred way for small-cap growth companies to go public on a major U.S. stock exchange. And I don't blame them. The current IPO process is antiquated, costly, and benefits the investment bankers more than anyone else. It's broken and needs to be changed … and the SPAC is a cool alternative being welcomed with open arms by investors.
Investors will need to be more selective in 2021 regarding which SPACs they invest in. Not all are created equal. The winners will be big winners, and the laggards will really lag. But don't worry. My team and I will be here to help with that.
Prediction #10: China will invade Mars.
China successfully launched a mission called Tianwen-1 in 2020, and if all goes well it will be that nation's first successful landing on the red planet. This is important because it will kick off the Great 2020s Space Race.
The U.S. has landed several missions on Mars with another on its way, and China's success will really push the U.S. and other countries. Hundreds of billions will be spent, and the race to conquer Mars will kick up a notch in 2021. Of course, there will be investment implications …
The Time to Be Invested Is NOW
And there you have it. My Top 10 Predictions for 2021.
2020 may not have been the kickoff to the decade that we expected, but I really do expect the rest of the Roaring 2020s to really, well, roar — thanks to multiple breakthroughs, innovations, and mega-trends that are changing our lives.
So stay tuned, because the best is yet to come.
I can't wait to explore this new year with you and your fellow MoneyWire readers.
On the date of publication, Matthew McCall did not have (either directly or indirectly) any positions in the securities mentioned in this article.
Matthew McCall left Wall Street to actually help investors — by getting them into the world's biggest, most revolutionary trends BEFORE anyone else. Click here to see what Matt has up his sleeve now.
More From InvestorPlace
The post My Top 10 Predictions for 2021 appeared first on InvestorPlace.
https://markets.businessinsider.com/news/stocks/matt-mccall-top-10-predictions-for-2021-1029928732
To Find More Information, Go To Saubio Digital And Look Up Any Topic