Read Time:
5 Minute, 5 Second
InvestorPlace – Stock Market News, Stock Advice & Trading Tips
One cool thing about cryptocurrencies … they trade 24/7.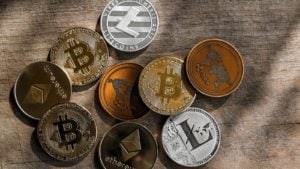 Source: Shutterstock
One bad thing about cryptocurrencies … they trade 24/7.
I'm kidding, sort of. There's some truth in that.
When cryptos are flying, it's fun watching them — and your account balance — move higher on evenings and weekends.
On the other hand, when prices are falling, it takes the fun out of it … but not the long-term potential.
That's what we saw this week, when Bitcoin (CCC:BTC-USD) dropped five straight days from last Friday through Tuesday. It plunged 30% from high to low, and as you would expect, the headlines were screaming gloom and doom.
The Bitcoin Bubble Is Popping. Why There's No Telling Where the Selling Stops.
Deutsche Bank says bitcoin's gone from 'trendy to tacky.'
And…
Ark Investment's Cathie Wood Says Bitcoin Will Go to $500,000
Wait … what?
I have a lot of respect for Cathie Wood and her ARK Invest products. I think she does a lot of good work and research in hypergrowth trends and companies of the future.
But wow. Bitcoin to $500K is a massive target. That's more than 1,200% above current prices!
And should that happen, regular readers know I would expect select altcoins to make even more money.
Is it even realistic?
It's ambitious, for sure. But I do think it's possible. For now, though, I'll stick with Bitcoin $100,000, which I have said for some time is in the cards.
I targeted six figures when Bitcoin traded around $10,000 last fall … and then again at $20,000, $30,000, $40,000, $50,000 and $60,000. And now here again at $40,000.
Still, Cathie Wood is exactly right in her long-term thinking.
She correctly said in a Bloomberg interview that environmental concerns around Bitcoin mining have caused some people to step back, including Tesla (NASDAQ:TSLA) founder Elon Musk. But she also pointed out that Bitcoin miners already use renewable energy and hydroelectric power.
Most Bitcoin is mined in China (about 75%), and renewable energy is now used more than half of the time. She also expects sources like wind and solar to become better integrated with the electrical grid, which would make Bitcoin mining more environmentally friendly.
I was especially intrigued by her observation that this latest fall in Bitcoin increases the chances of a Bitcoin exchange-traded fund (ETF) in the United States. "The odds are going up now that we have had this correction," she said.
That would be a huge catalyst and another big step forward in the great crypto awakening.
I have no doubt demand would be there. That's why various companies have tried to launch a U.S.-based Bitcoin ETF for eight years now. Industry pioneers Cameron and Tyler Winklevoss tried way back in 2013. They tried again in 2018.
In August 2018, the Securities and Exchange Commission (SEC) rejected nine bitcoin ETF proposals … in one day!
The party line from the SEC has been concerns over volatility, manipulation and proper oversight. I think that's baloney. The government just doesn't want to get involved in something it doesn't understand.
But that's changing.
Earlier this year, Canada approved the first North American Bitcoin ETF, putting pressure on U.S. regulators to catch up to reality. At least eight firms have applications into the SEC to launch crypto ETFs.
We need regulators who understand the blockchain technology that cryptocurrencies are built on and its potential to improve so many areas of our lives. We need them to not just have heard of blockchain but possess a deep understanding of it and its value.
New SEC Chairman Gary Gensler provides reason for optimism. He was a professor at MIT who taught a course on blockchain, so he clearly understands the technology and its applications. The worst thing we want at this point is for any regulation to squash blockchain's potential … and the massive opportunity for smart investors in the best altcoins.
Cryptos and the blockchain are going to change everything. The way you buy everyday goods and services … purchase a home … pay your taxes … even how you order a pizza.
This transformation is already underway, which is why Bitcoin exploded to record highs earlier this year. My friend Charlie Shrem and I think that was one of the most important events in the cryptocurrency sector since bitcoin started it all in 2009. And Charlie was around practically at the beginning.
The action demonstrated that Bitcoin and its smaller peers — the altcoins that have even bigger potential — are here to stay.
The truly seismic shift is coming as businesses, consumers, big-money investors and even the government and regulators realize what's going on. Bitcoin and altcoins cannot be ignored by large firms anymore.
We've seen money managers, hedge funds, large institutions and even publicly traded companies turn to cryptocurrencies and the blockchain technology that they run on.
This big money realizes that if they don't adopt a plan, they will be left behind.
The same is true for smart investors. Not investing in cryptocurrencies and the blockchain today would be similar to not investing in the advent of the internet.
Now is the time to be at the forefront of the next big technological revolution moving into the mainstream in the Roaring 2020s.
On the date of publication, Matthew McCall did not have (either directly or indirectly) any positions in the securities mentioned in this article.
Matthew McCall left Wall Street to actually help investors — by getting them into the world's biggest, most revolutionary trends BEFORE anyone else. Click here to see what Matt has up his sleeve now.
More From InvestorPlace
The post Could Bitcoin Really Go That High? appeared first on InvestorPlace.
https://markets.businessinsider.com/news/stocks/could-bitcoin-really-go-that-high-1030456911
To Find More Information, Go To Saubio Digital And Look Up Any Topic