Read Time:
4 Minute, 41 Second
InvestorPlace – Stock Market News, Stock Advice & Trading Tips
I have a new mantra for 2021: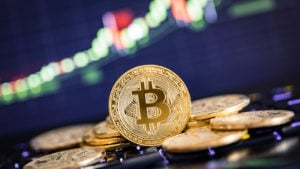 Source: Shutterstock
Buy the dip.
It's actually not that new. It's a cornerstone of my long-term investing philosophy.
Assets don't go up in a straight line. So, if you know the longer-term trend is up, those dips that sometimes look like crashes are in fact bargain opportunities.
The prime example happened nearly one year ago when stocks descended into a bear market faster than at any other time in history. The market is back at all-time highs, and many stocks have multiplied in the recovery.
Buying opportunities of that magnitude are rare, but normal pullbacks happen all the time.
That's what we saw this week in one of the hottest investments out there, and you can bet I was practicing what I preach …
Before I went to bed Thursday night, I bought more bitcoin. And as I write this Friday afternoon, the crypto is up 10%.
So far, so good … but I never expect a straight shot up. And if it dips again, I'll probably buy some more.
When identifying buying opportunities, I look at both the charts and the big picture. Let's start with a few bitcoin charts.
Here's the five-day chart through Friday morning … kind of scary, huh?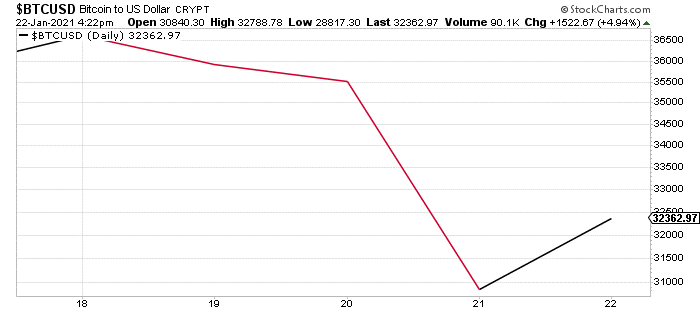 Let's zoom out a little bit and look at the last month. It's better, but the action still probably wouldn't alleviate all your concerns: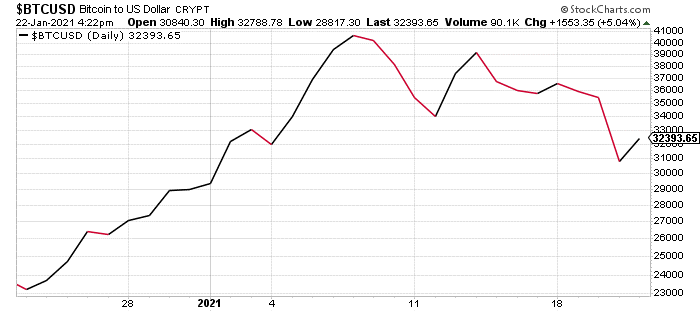 And finally, let's look at the one-year chart. All of a sudden, that 25% pullback you see above (from $41,000 to $31,000) seems a lot less frightening.