Read Time:
5 Minute, 15 Second
InvestorPlace – Stock Market News, Stock Advice & Trading Tips
If you're like most people, you're skeptical of the "altcoin" market.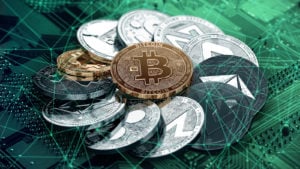 Source: Shutterstock
Altcoin is the term used to describe any cryptocurrency that isn't bitcoin. And what is the allure of bitcoin?
Simple …
It's a digital form of money that governments cannot control or debase … one we can transfer without the involvement of big, corrupt banks.
For those who don't place much trust in government or big banks, bitcoin is a great idea.
As a digital currency, bitcoin offers an alternative to government-controlled currencies and the injustices they inflict on citizens.
Most people "get" that.
But most people don't "get" why altcoins exist … why they are set to EXPLODE higher in a financial revolution taking place in America right now … and why they represent one of the biggest investment opportunities you'll ever see.
Well, get ready to get it …
Skeptics like to point out that if we have bitcoin, why do we need the hundreds of other altcoins on the market?
Surely they are just scams or fantasies, right?
I'm here to let you know that might be the single most expensive belief on the planet right now.
Here's why …
Right now, there's a fuse being lit under the altcoin market.
This fuse will set off one of the largest explosions of wealth in modern history. People who invest modest stakes in altcoins will make millions of dollars.
But to truly understand the magnitude of this opportunity, you must understand that altcoins aren't really cryptocurrencies in the way most people think of them.
Altcoins aren't "fantasy internet money"… they are actually investments in one of the most valuable, most revolutionary technologies every created.
And they will create a multi-trillion-dollar tsunami of wealth for their owners.
Remember, the underlying technology behind bitcoin and altcoins is the blockchain. You've probably heard all the buzzwords surrounding it.
Blockchain is a "virtual ledger"… it's capable of recording, verifying, and securing digital transactions … it's a series of confirmed and encrypted data spread across many geographic locations.
Now, you can think of the blockchain and cryptocurrencies like that …
But to truly convey their stunning wealth-creation power, I prefer to say that blockchain technologies are just really, really, really valuable software programs.
Software has become a part of our everyday lives the last few decades, so we sometimes overlook what that means. Software programs are one of the greatest forces for wealth creation on Earth. They make our lives and our businesses easier and vastly more efficient.
Think of Microsoft (NASDAQ:MSFT) … Adobe Systems (NASDAQ:ADBE) … Uber (NYSE:UBER) … and Alphabet (NASDAQ:GOOGL). A great software program can help you make smart business decisions, find travel deals, talk to loved ones, get a cheap ride home, calculate your taxes, and more. They can even transform industries.
It's no wonder they kicked off one of the largest and fastest accumulations of wealth in human history.
Which brings me to my million-dollar point …